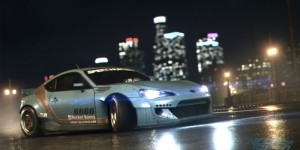 Another Need For Speed game update is scheduled to be released today, check out some of the details below and
read the official blog here
.
Snapshot Pro – A mode which will allow you to create some stunning photos of your favorite car with color filters, lens effects and more. (Read more about it here)
Wrap Sharing – Wrap Sharing has been one of the most requested features to date and because of this we're adding a new option within the Paint and Wrap section that will allow you to browse and download wraps shared by other players. If you're a wrap creator then simply mark your creation as shareable and it'll show up for everyone else.
Customization Items – Customization continues to be something we see you talking about and requesting more of, which is why we'll be following in the footsteps of the Legends update and adding another 100+ new customization items in this update.
In total, eleven new cars will be getting new parts:
Ford Focus RS
Chevrolet Camaro Z28
BMW M3 E92
Ford Mustang Boss 302
Ford Mustang Foxbody
Ford Mustang GT
Mazda MX5 (2015)
NISSAN 180sx Type X
NISSAN Silvia Spec-R
SUBARU BRZ Premium
SUBARU Impreza WRX
Multiplayer – Want to test your skills against other people? We've added a "Competitive" option at the front menu which will see you placed in a game with other players who are also looking to race competitively. Or, select "Alldrive" and you can experience Need for Speed as it is now.
License Plates – You'll now have the option to customize the license plate on your car, giving you even more options to personalize your ride.
You'll be able to choose from a selection of backgrounds from past NFS games including; Redview, Fairhaven, Palmont City, Rockport, Olympic City, Bayview and Tri City Bay. Alongside the backgrounds you'll also be able to apply a number of frames to complete the look.
Gas Stations – Players of previous NFS games will be familiar with the gas stations and their ability to repair your car. Something we heard directly from you, the NFS community, is that you wanted this functionality brought back. You missed the option of having your car look new again, instead of having to wear the scars of racing until you ventured back to the garage.
As such, all gas stations in Ventura Bay will now repair your car, free of charge. Simply drive your car through the station and it'll be looking as good as new. And to help you out further, we'll be adding all gas stations as points of interest on the map.
Full Patch Notes
New Feature: Wrap Sharing
New Feature: Snapshot Pro Mode
A new "Splash" screen which gives players information on what is included in the new updates from the Living Game
A new Snapshot overview screen in the Need for Speed Network menu so you can find out more about your snapshots
Improvements to Kickbacks and likes on snapshots
100+ new customization items for a variety of cars
License plates are back. Apply around 10 different license plates to your car for more in depth customization
We've made more improvements and bug fixes to multiplayer. You can now play with like-minded people, if you want to play competitive then you can now select this option when matchmaking and join a world with people who also want to play competitive.
3 new Trophies and achievements
Drive through a Gas Station and repair your car on the fly.
A variety of tweaks and improvements including AI, player feedback, Gameplay and World
Fixed a couple of bugs for Eddie's challenge
Multiple stability fixes
Need For Speed Update 1.05 'Showcase' Is Now Available To Download For PS4 And Xbox One

An avid video game fan and player since the late 70's.